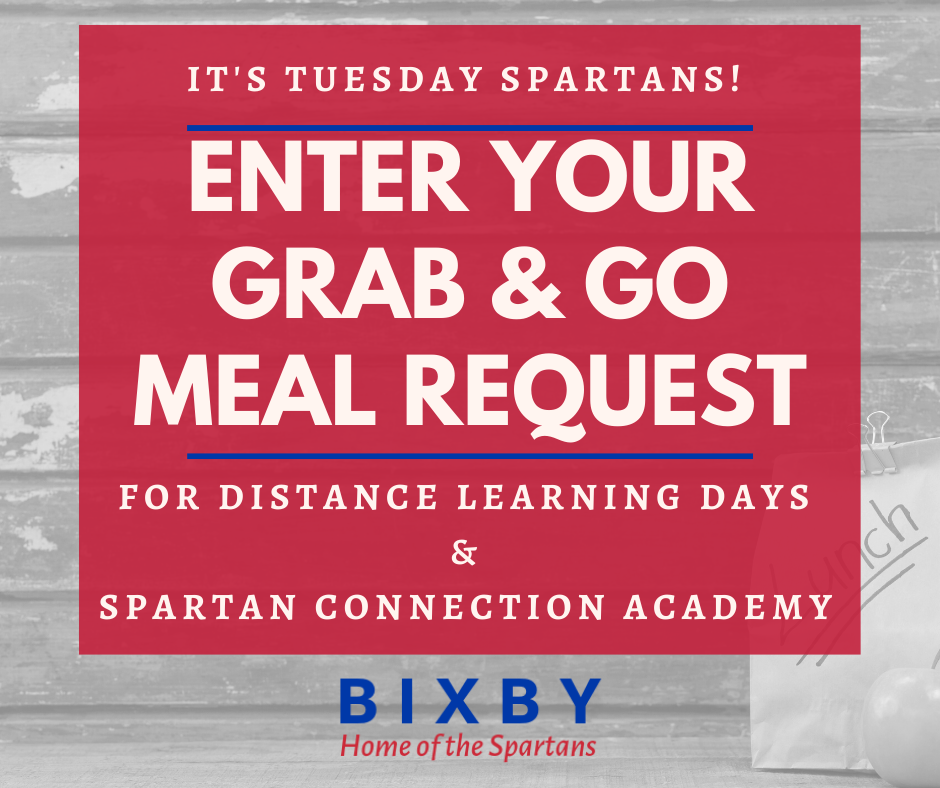 Peach Jar Pro Tip! Access Notification Settings from any Peachjar Email: - The default flyer delivery frequency is set to "Daily." - This means each flyer will be sent within 24 hours of  being posted. - To change your delivery frequency, you can click "Manage Delivery Preferences" at the bottom of any Peachjar email. - Additionally, if you have created a parent account, you can log in to your Peachjar account, click "My Account" and then "Notification Preferences". You can also make changes related to school site notification preferences here as well.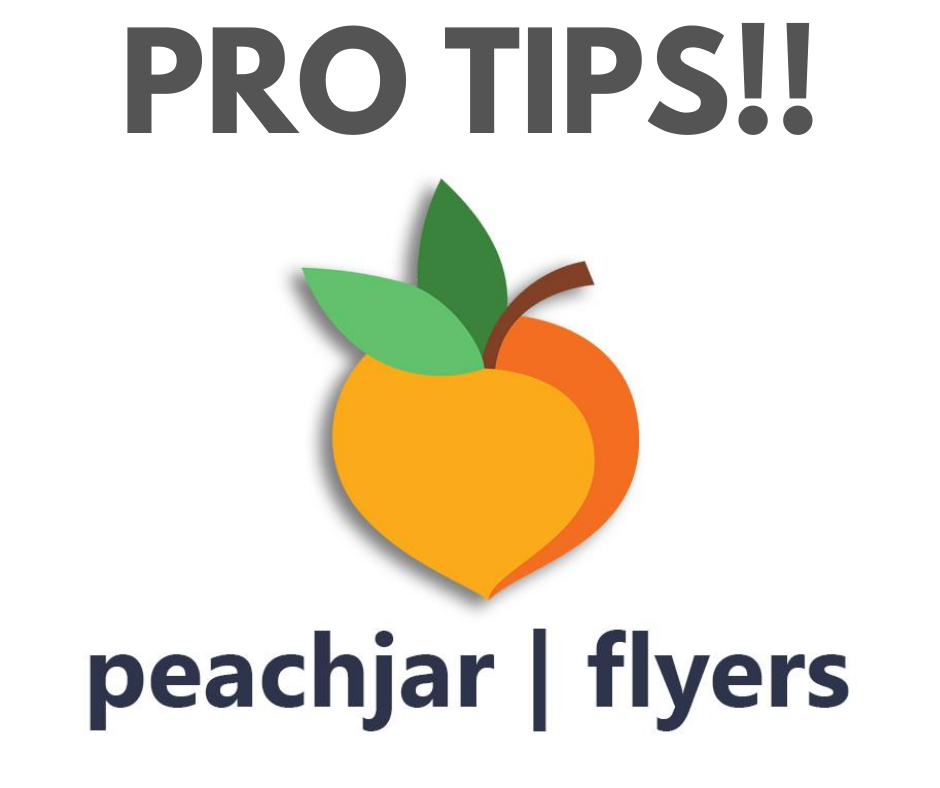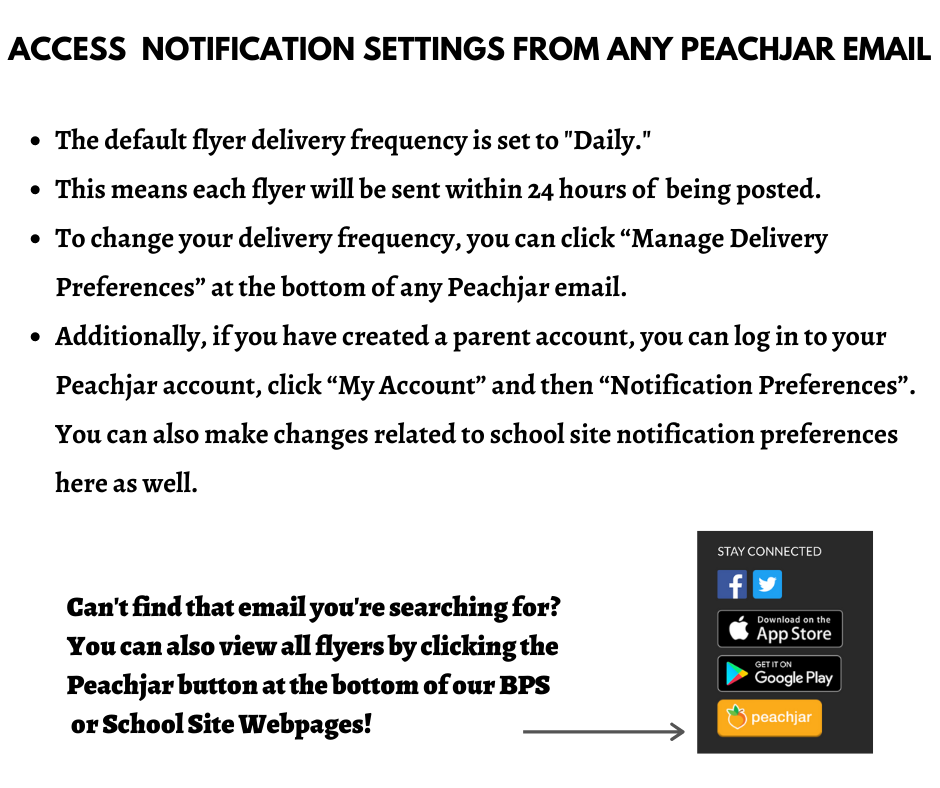 Spartans, see the link below for Grab & Go Meal Procedures for both Distance Learning as well as Spartan Connection Academy. Flyers have been sent out via Peach Jar as well! Families will need to complete the meal request form on Tuesday 8/25 for the week of 8/31.
https://www.bixbyps.org/article/292627?org=bixby-public-schools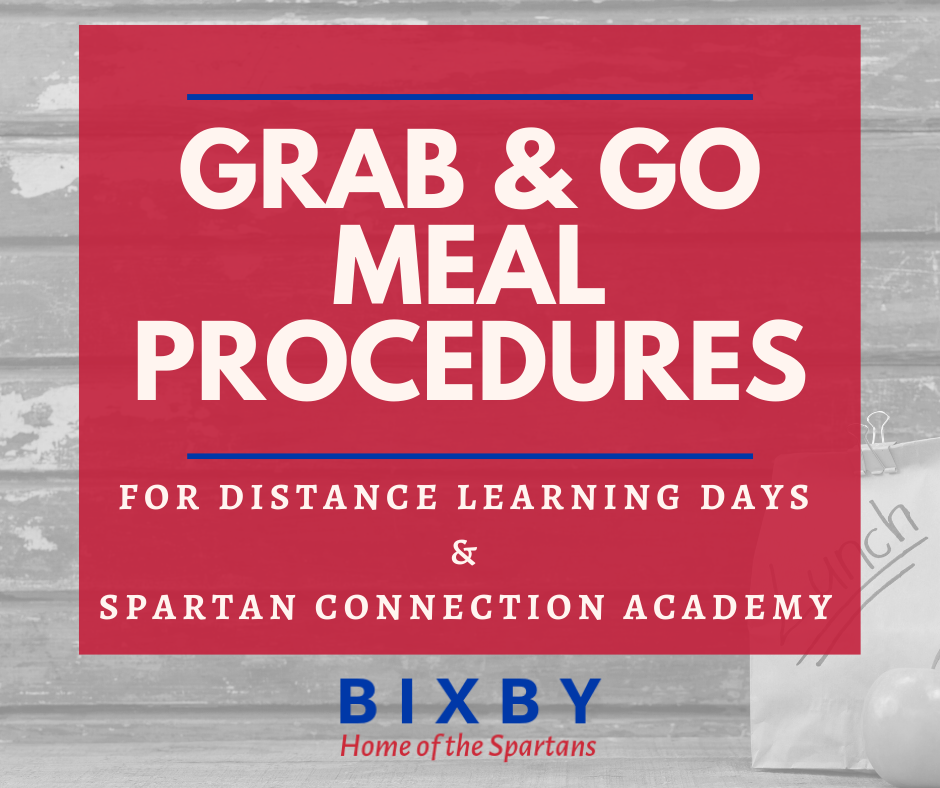 Spartans, see the link below for an update from Supt. Miller on our experiences with the first cohort this week. We have enjoyed a successful reopening so far and look forward to welcoming cohort RED (last names L-Z) on Monday. Students enrolled in our Spartan Connection Academy will also begin programming Monday. Have a great weekend!
https://youtu.be/jf_WINSAoHc

Early Release Schedule & How it Applies to Distance Learning Days: - Early Release Fridays begin on Friday, August 21st which is a Distance Learning Day. - Students in grades K- 6 will follow their regular distance learning schedule found in the distance learning guide, specific to your child's teacher's schedule. - Students in grades 7-12 can tune into their classes according to the Early Release Friday Bell Schedule which can be found here:
https://www.bixbyps.org/o/bixby-high-school/page/school-day-schedule--17
. - For specific students who are on campus, transportation will run according to the Early Release Friday schedule for their school site. School Day Schedules can be found on each school site's webpage under Explore/School Day Schedule. - Please contact your school site with any questions.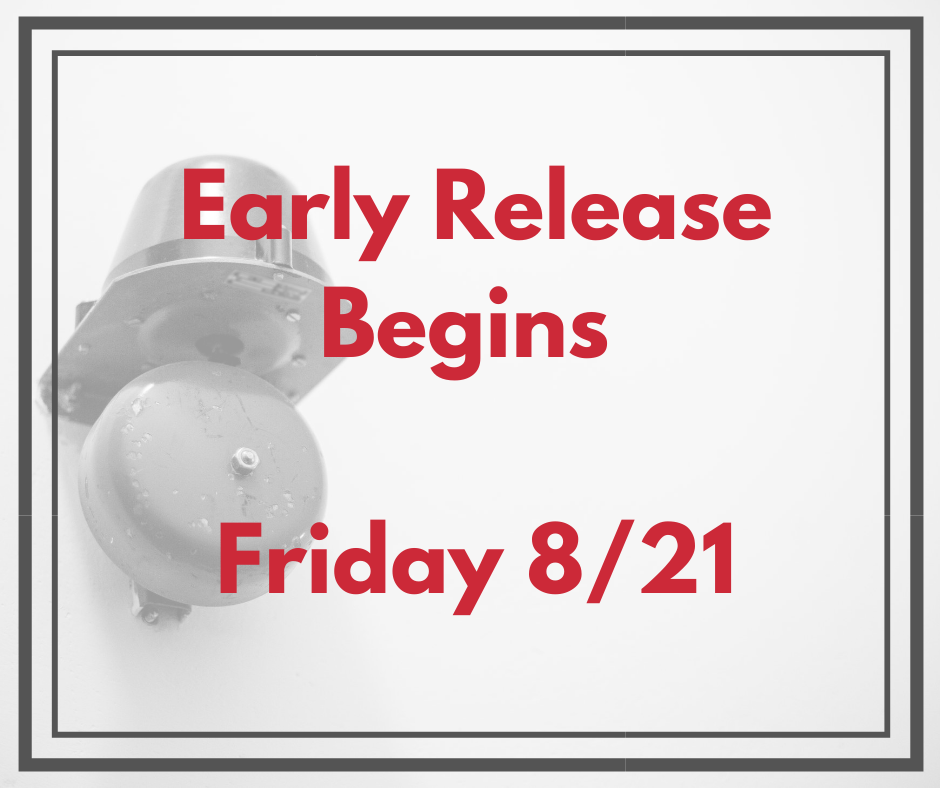 Spartan Family, Due to much media coverage at our school sites this morning as we began our first day, and out of our commitment to ensuring accurate information is communicated, we are sharing this press release both with our school family as well as local media. Please keep in mind, with any future incidents, according to our Return to Learn Protocol, BPS will notify via text message only those individuals who are directly affected or may have come in contact with a student or staff member testing positive, pursuant to health department guidelines and federal privacy laws. See here:
https://5il.co/jqd0

Spartans, a few important updates about meals! **All families should ensure their child's My School Bucks meal account has funds OR send a check to school on your student's first day. We would like to avoid cash if possible.** Grab & Go Meals are back on distance learning days as well as for Spartan Connection Academy students! Traditional Students: - Students will be charged for meals at their normal rate! - Families should have received an email and a text today with a form link to request meals on their cohort Friday (distance learning day). - We will have more info to come on the procedure for Grab & Go meals beginning 8/31 for distance learning! Spartan Connection Academy Students: - Students will be charged for meals at their normal rate! - Grab and Go Meals are available to you beginning 8/24 when SCA starts school! - Details and flyer with link and instructions will be sent to SCA families tomorrow afternoon!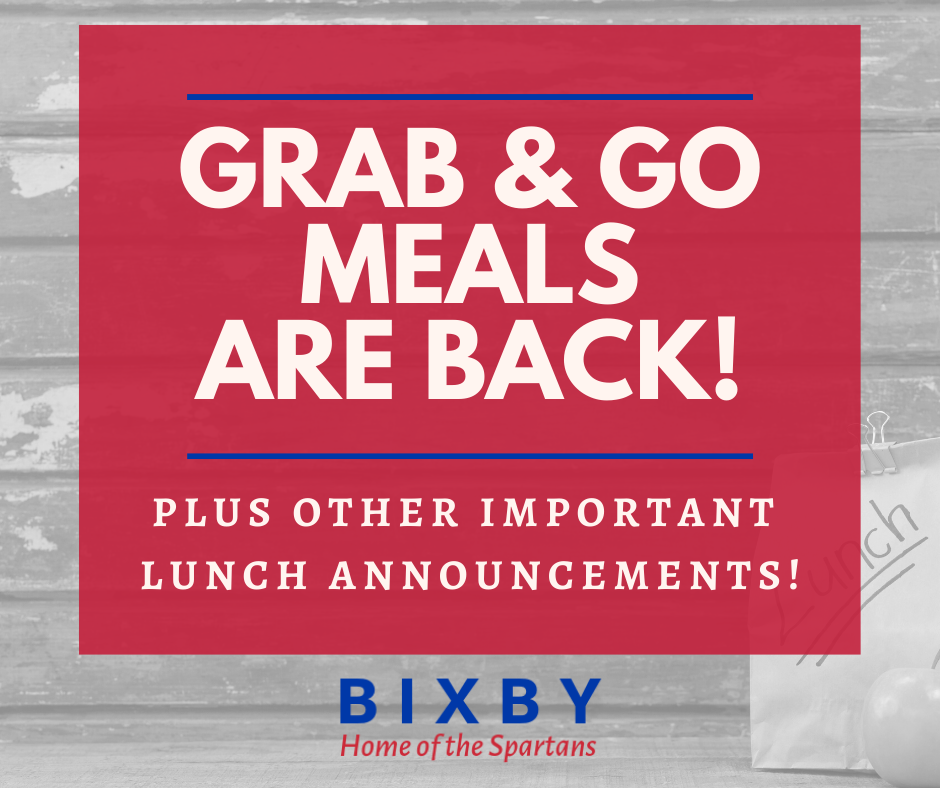 Supt. Miller is a tough man to surprise, but tonight, we pulled it off! Congressman Hern attended our Board of Education meeting to honor Mr. Miller as the United States House of Representatives Veteran of the Month! Spartans, please join us in celebration of Supt. Miller as we thank him for his many years of service in the United States Marine Corps and now for his service to our community as BPS Superintendent. Mr. Miller, we are so proud and grateful that you're a Spartan! Also, a huge thanks to Congressman Hern for taking the time to visit Bixby!

Spartans, please see the link below for the latest Return to Learn update from Supt. Miller! Stay tuned later this week for a video update as well! Have a wonderful day! August 10th Update:
https://5il.co/jbqh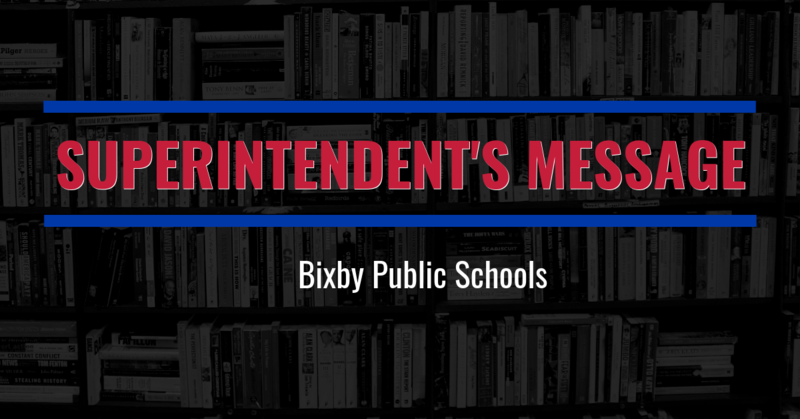 2020 Back to School at a Glance has been posted at the link below! bixbyps.info/2020backtoschool Specific communication on all of these events will be coming from school sites as well! It's another great day to be a Spartan!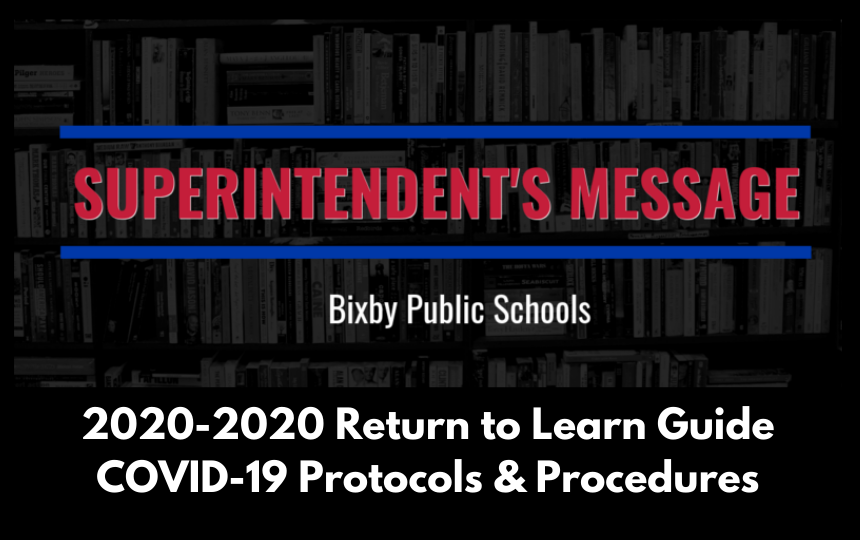 Reminder: The Bixby Board of Education meeting is this evening at 6 PM. Guests are welcome to attend in-person. The meeting will also be live streamed on our YouTube Channel: bixbyps.info/youtube! Click subscribe on our channel if you'd like a notification!

Return to Learn Update: BPS has scheduled a special board meeting on Monday, July 27th at 6 PM to discuss updated plans relative to the reopening of schools. This meeting will be live streamed and community members are also welcome to attend in-person. Live stream details will be posted on Monday. Additionally, we will be providing a 24-hour grace period following the meeting for families to make their enrollment option decision.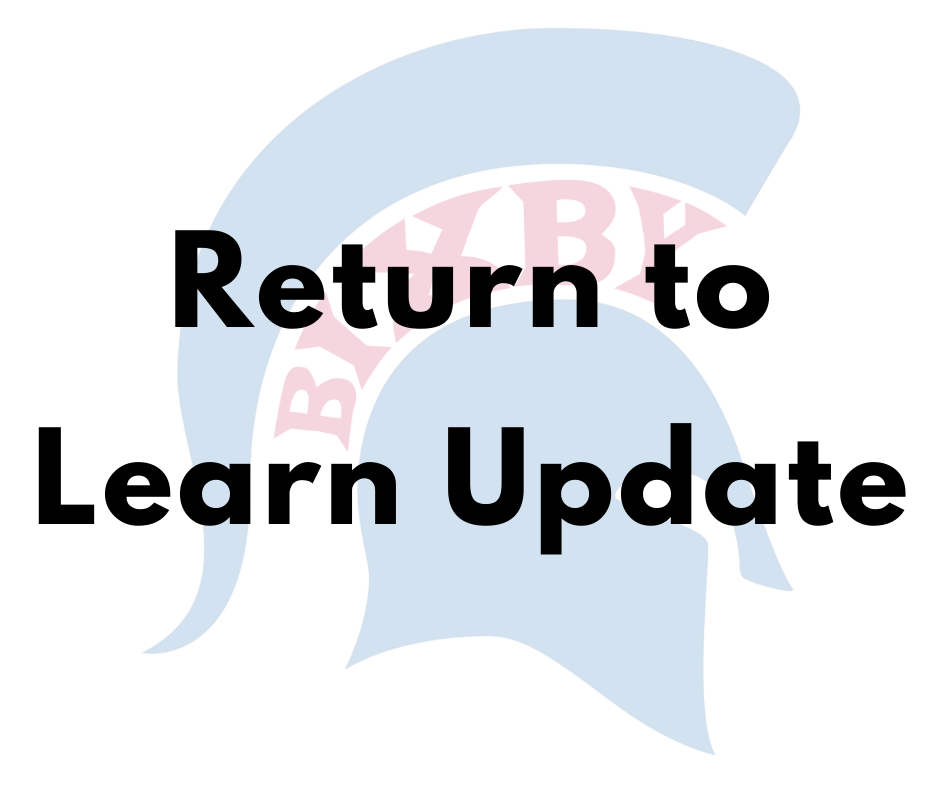 Spartan Families, Please see the link below for an important update on Return to Learn starting with a message from Supt. Miller. Other items also included are: Distance Learning Guidelines, and Spartan Connection Academy Virtual School Procedures. See the full update here:
https://www.bixbyps.org/article/272226?org=bixby-public-schools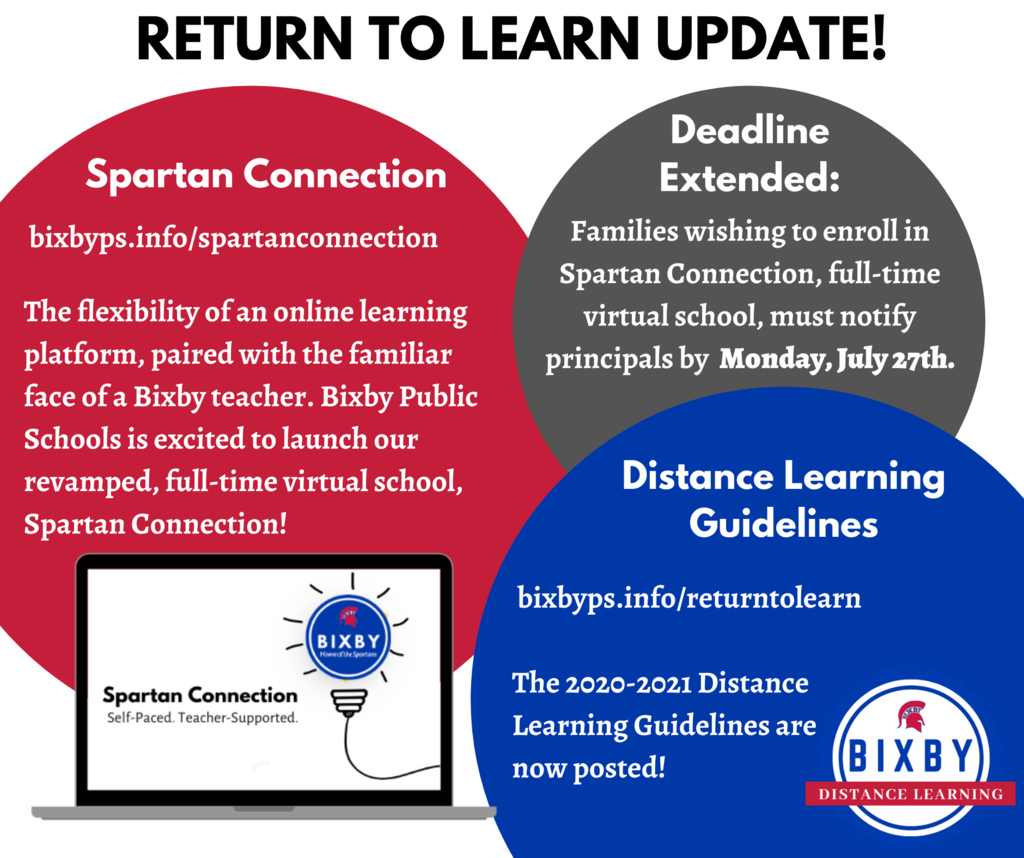 Spartans, please visit this link for an important message:
https://5il.co/iegk
"I am suggesting today that we need to move beyond these relatively minor differences and seek to find common ground...To commit to the premise that we are all trying to do our best to serve, support, and protect our students, our community members, and our employees." ~ Supt. Miller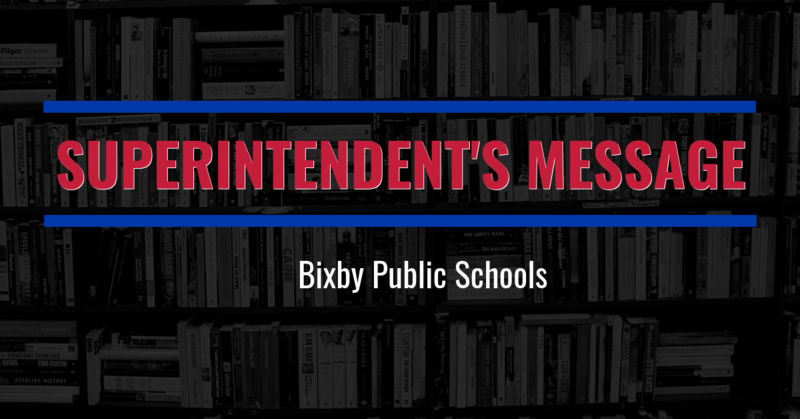 For this evening's Board of Education meeting, guests can join us two ways: 1. Attend the meeting in person at the school admin building at 109 N Armstrong. If attending, you will need to wear a mask. 2. Tune in via live stream on the BPS YouTube channel here:
https://bixbyps.info/youtube
. Live stream will begin when we get to the Return to Learn portion of our agenda. ****Our Return to Learn webpage is now complete and live at
https://bixbyps.info/returntolearn
.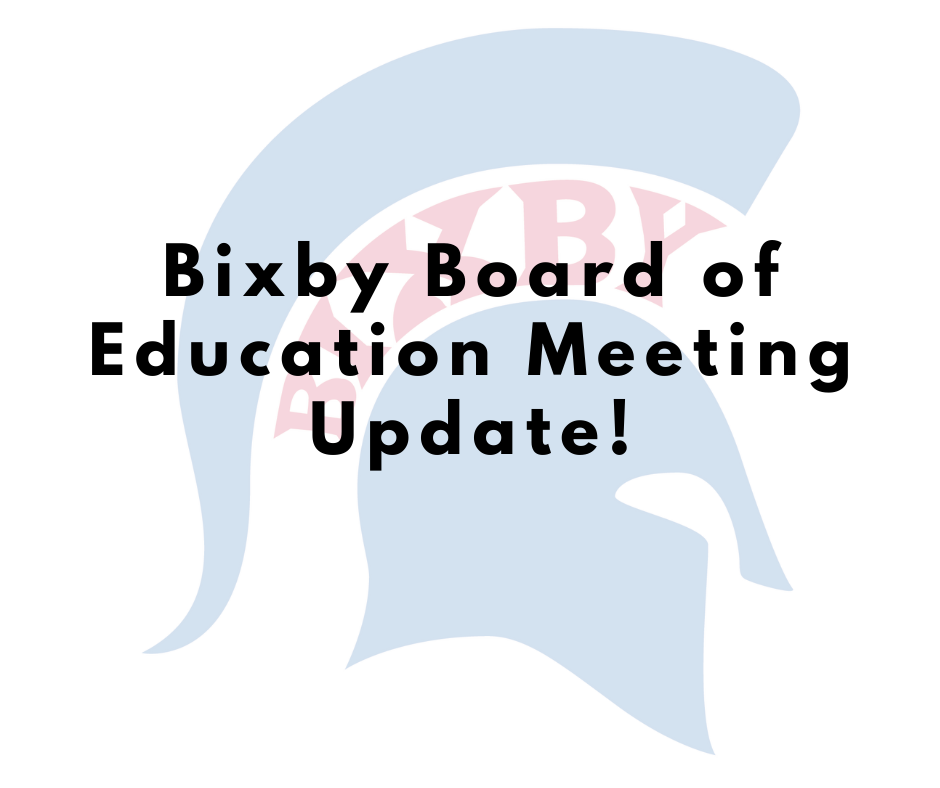 BPS Families & Staff, We have been made aware that a copy of our Return to Learn Guide is being circulated publicly. Although we are always committed to being transparent and communicative, we need everyone to understand this plan is currently a draft to be considered by the Board of Education this evening. Please plan to tune in with us via live stream (link coming this afternoon) as we discuss this guide in its entirety and prepare to release all of this information to our community following the board meeting. Thank you for your understanding.