SWIM
By ChristaThompson, Head Swimming Coach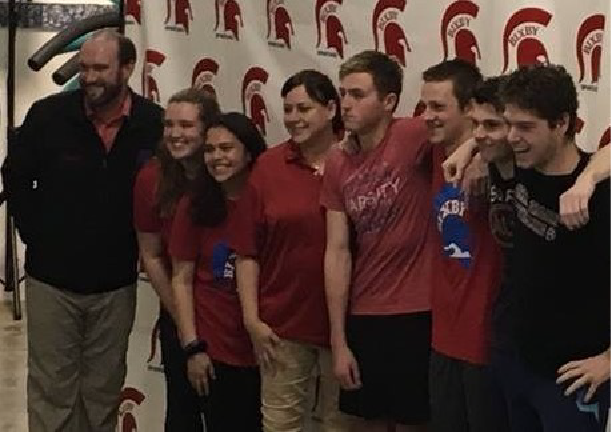 The Bixby swimmers had two meets last week. Tuesday was Conference at Jenks where the girls took third and the boys took fifth out of seven teams. First place finishes were:100 back Kayley Henderson,200 IM Kayley Henderson,and the 200 Medley Relay (Kayley Henderson,Leah Wagner, Savannah Jacoway,and Kendall Stieben). Second place finishes were:50 Free Kendall Stieben,100 Free Kendall Stieben,and 400 Free Relay (Kayley Henderson,Savannah Jacoway,Rachel Brown,and Kendall Stieben). Third place finish was Ben Herrold in the 50 Free. Senior Night was Thursday against Broken Arrow. Bixby won the dual taking first place in almost every event. Want to say thank you and good luck to our seniors:Ben Herrold, Kinsey Brown,Jaxon Jordan,Isabella Rabara,Ben Wilson, and Marshal Hobus. Our next meet is this Friday and Saturday at Jenks. It is an invitational so we will have a lot of competition. We would love to see some support.
GIRLS BASKETBALL
By Tina Thomas, Head Girls Coach
The Lady Spartans went 3 and 1 in a busy week of basketball. Tuesday they faced Owasso at home and came out victorious in a 43-26 win over the Lady Rams. They traveled to Putnam City Tournament where they faced all three PC teams. Thursday they beat PC by a score of 65-35. Friday they faced off with PC North and rolled by with a 57-43 win. Dariann Myles led the offensive charge with 19 points. PC West?s defensive pressure and several individual athletic proved to be too much for the Lady Spartans as they fell 48-69 to the #1 ranked class 6A team. Kate Bradley had 15 and a gutsy performance vs West. Sydney Page had 14 and 12 in the first two tournament games. Dariann Myles was selected to the All-Tournament team. Sydnee Schovanec reached a milestone as she surpassed the 1000 career points and 700 rebounds in her career.
BOYS BASKETBALL
By: Nate Smith, Head Boys Coach
The Spartan Boy's Basketball team had a very busy week. We started with a Frontier Conference game at Owasso. The Spartans lost 72-34, the team was lead in points by Xavier Glenn with 26. The Spartans were then in a 3-day tournament at Bartlesville. The first game was against Stillwater and Spartans lost 65-43. Xavier Glenn lead the team in points with 20. The Spartans lost a heartbreaker Friday against Wichita Defenders 40-39. Xavier Glenn had 10 points followed by Braden Weaver and Devin Crites with 8 points each. The Spartans did finish the tournament strong with a win against Enid. The Spartans won 64-55. Xavier Glenn had 32 points. This week the Spartans travel to Sapulpa on Tuesday and have a home against Booker T Washington on Friday night.
Wrestling
By: Brock Moore, Head Wrestling Coach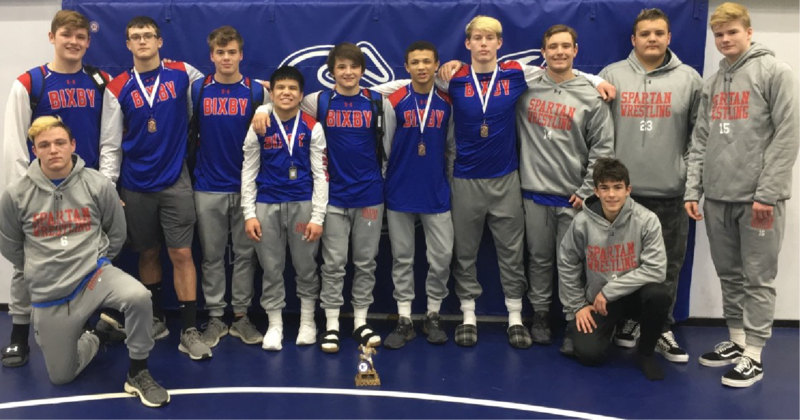 The JH wrestling team had two duals at home the first against a tough Sand Springs team and the second against Sapulpa. They dropped the duel against Sand Springs 43-31 with some starters out with injury. They won a close one against Sapulpa 39-33 with those same starters out. Most of the JH wrestlers will be competing in one of the toughest tournament in the country this coming weekend at Tulsa Nationals at the Expo Pavilion. The HS wrestling team had their first home dual of the season against Muskogee Winning 42-32. There Were a lot of fans in the stands for the Spartans 2nd dual win of the season. The HS team also competed in the 53rd Annual Jerry Billings Invitational Tournament held at Sapulpa The Last weekend. The Spartans finished in 7th place as a team and had 5 individual placers: Zach Blankenship-1st, Andrew Plumlee-3rd, Garrett Washington-4th, Jack Puckett-4th, Aidan Kirkland-5th. Zach Blankenship also won the Outstanding Wrestler Award for the entire tournament. This was Zach's 4th tournament of the season where he has placed 1st and won the Outstanding Wrestler Award.
Zach's Current record for his freshman season is 21-0. This Tournament was a good test for these young wrestlers and they rose to the occasion and wrestled well. This tournament line up was made up of 8 freshmen, 3 sophomores, 1 junior and 1 senior.
The JH & HS teams have District Dual Against Jenks, Ponca City and Sapulpa this Tuesday January, 15, 2019 at Jenks. There Will be 3 duals with the first one starting at 4:00, second at 5:30 and the third at 7:00. Please Come Out and help support the Spartan wrestlers qualify for Dual State.