Information for Parade Observers:
Important Reminders:
Parking areas to observe the parade include: Central Elementary, 9th Grade Center, Bixby Middle School, Central Intermediate.

Parade audience may line up along the route on Riverview, 151st Street, Mingo, and 161st Street.

Please refer to the parade route map for details.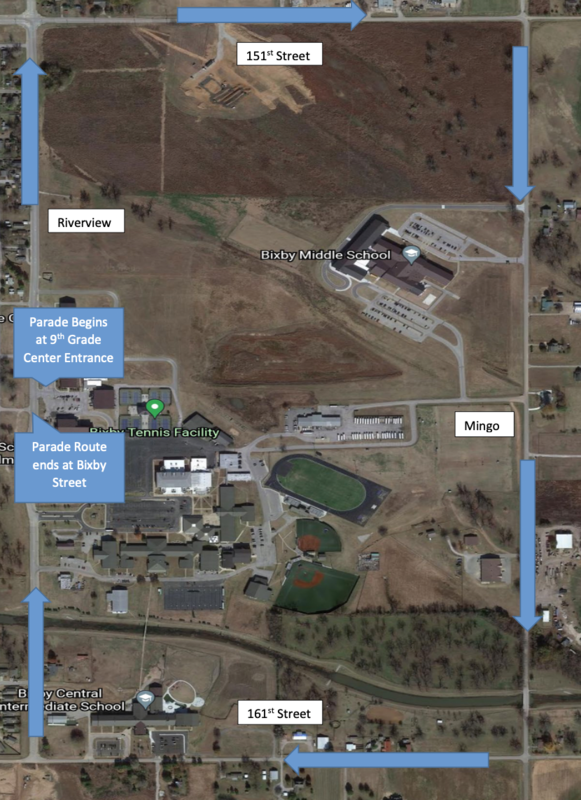 ---
Information for Seniors:
On Sunday, May 8th, 2022 at 4:00 pm we are going to have the Senior Graduation Parade for the Class of 2022. The general parade information will be distributed through all Bixby Public School channels and is also attached to this message. Below is some specific information to Seniors who will participate in the parade:
All Seniors are allowed to have one vehicle in the parade. Family, friends or classmates are welcome to ride with you and I encourage you to decorate your vehicle to celebrate your graduation successes. • Seniors should enter the BHS parking lot at the "B" entrance between 3:00 and 4:00 pm. Cars will be guided by school employees and Leadership volunteers to the parking lot between the football stadium and the gyms where we will stage for the parade in rows of cars.
Seniors should wear their graduation gowns to identify them as 2022 Spartan Seniors. No hats are required.
A Bixby police officer will lead the parade group out of the entrance of the 9th-grade center at 4:00 pm.
Cars should follow the convoy of vehicles through the entire parade route and obey all traffic laws. The parade will end at Bixby street after circling the entire route and students may head home or return to the parking lot if they are attending the Senior Sunset Activity.
Valedictorians and Salutatorians only, may enter the 9th-grade entrance between HOTS and the 9th grade center where they will lead the student portion of the parade behind Bixby Police. I encourage those students to identify themselves with signs or window decorations to recognize their achievements during the parade.
Any students that have committed to serving in the military should also recognize themselves with signs or decorations so that we can salute you for your service during the parade. These students will line up with the general student group and be dispersed throughout the parade.
If you have any questions or concerns email me at tadams@bixbyps.org.
I am excited about this event and hope to see all Seniors next Sunday!
Regards,
Terry Adams