Dear BPS Staff and Families,
As you have likely heard, Oklahoma County District Judge Natalie Mai filed a temporary injunction Wednesday afternoon blocking enforcement of portions of SB 658, which had prohibited school districts from considering a universal mask mandate unless there's a state of emergency. In her order, Judge Mai temporarily allows public school districts to enact a mask mandate for students, employees and visitors. However, any mandate must allow for religious, medical and personal exemptions for students as stated in current immunization statutes and apply equally to vaccinated and unvaccinated students.
At our regularly scheduled meeting last night, our Board of Education members and I reviewed our current masking protocols in light of this ruling. However, in accordance with the Oklahoma Open Meeting Act, the Board was unable to act on any motions related to specific changes as our final agenda had already been posted in advance of Judge Mai's order.
While I recognize that several Tulsa-area districts have already voted to implement new masking requirements supported by the judge's order, it is important to note that this injunction is temporary. The Oklahoma Attorney General's Office has already filed an appeal to her ruling along with additional motions to move the case to the Oklahoma Supreme Court and to have the case expedited.
We are monitoring this court case closely. The Board and I are reluctant to implement changes to masking requirements until we see how the Supreme Court is going to process these various motions. We don't want to put families or teachers through a scenario where we potentially change our guidelines one week only to be forced to reverse them a few days later due to a new court ruling. I am hopeful the courts will move this case forward quickly as it truly has health and safety implications for our students and employees.
We recognize there are intense feelings on both sides of the masking issue. Our current protocols strongly recommend mask wearing in our schools and buses, but allow for families to opt out based on their personal preference. Judge Mai's injunction allows us to do what we are already doing, yet formalizes the guideline by allowing districts to require written notification that specifically states the reason for a child to opt out of wearing a mask. Again, we have not made any changes and continue to wait for a final court decision.
In the past few weeks, a few local pediatricians and health professionals have reached out to me to suggest that we send updated information to families relative to potential COVID symptoms. As I shared last week, the key to our district being able to remain with in-person learning is continued vigilance in identifying and isolating positive individuals.
Identifying positive individuals can be challenging given the similarities between certain COVID-19 symptoms and seasonal allergies; challenges with younger persons recognizing when they are sick due to mild symptoms; and the fact that some persons may have COVID-19 and not have any symptoms at all.
Adopting guidance from the CDC website, the Oklahoma Department of Health has developed the following assessment tool to help determine when someone should be kept home or sent home from school and/or tested for COVID-19. I hope it is helpful.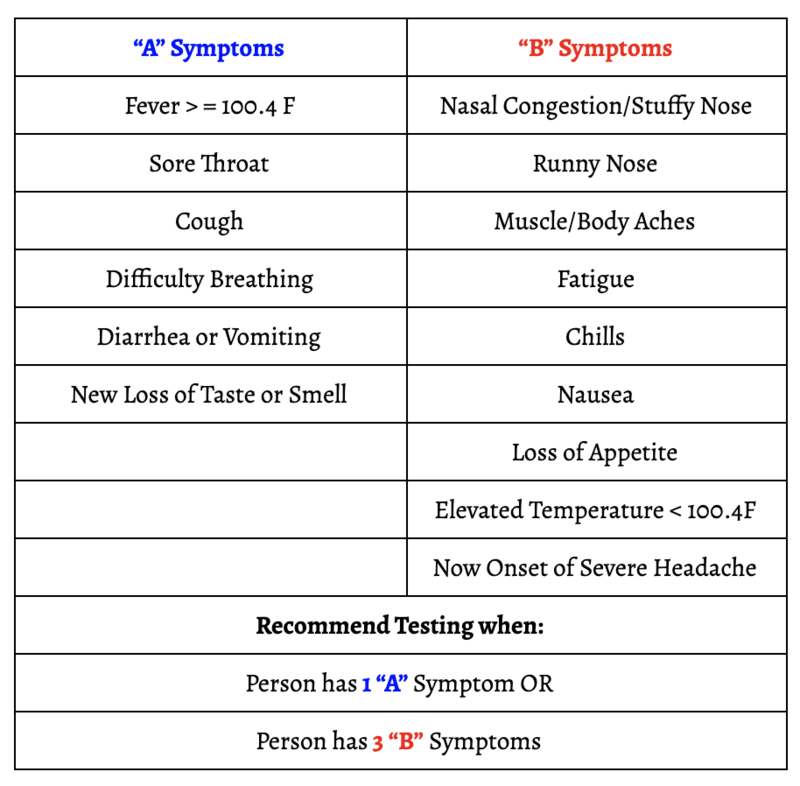 If you have any questions related to this information, please contact your family physician or school nurse. Please continue to access our COVID Data Dashboard for daily updates on positive cases within Bixby Schools.
Thank you.
Rob Miller
Superintendent