BPS Families,
Upon learning the American Academy of Pediatrics very strongly recommends a heart screening after a child tests positive for COVID-19, we were prompted, with your child's health and safety of the utmost priority, to formulate a plan to ensure students are physically ready to return to their activity safely, following their recovery.
Beginning November 16th, 2020, BPS will implement these Return to Play protocols:
Required release from a healthcare provider stating one of the following:

Student-athlete HAS satisfied the above criteria and IS cleared to return to FULL activity immediately.

Student-athlete HAS satisfied the above criteria and IS cleared to start the RTP progressions (as listed below).

Student-athlete HAS NOT satisfied the above criteria and IS NOT cleared to return to activity.

Upon recommendation from a healthcare provider, student-athletes may need to complete the progression below without development of chest pain, chest tightness, palpitations, lightheadedness, presyncope, or syncope. If these symptoms develop, the patient should be referred to the evaluating provider who signed the form.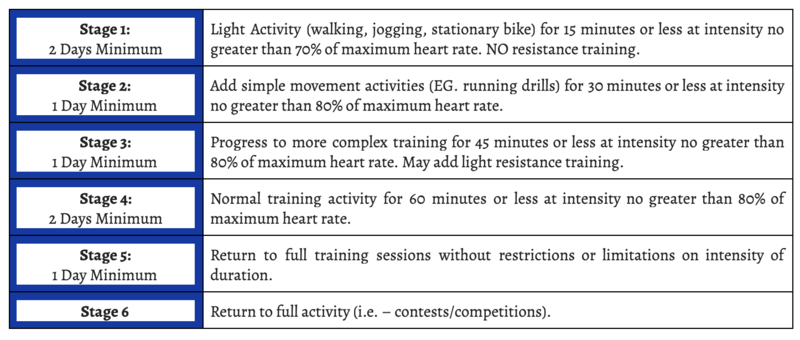 You may be wondering why we have provided this information to all families. We know that many of our students participate in physical activities and/or sports that are not school sanctioned. We wanted to make all families aware of this informational guidance in the event it may apply to your child at some point.
As always, we are here to support you and your students in their academics and activities. If we can do anything to help, please feel free to contact us.
Thank you,
BPS Athletics Department