Information for Parade Observers:
Important Reminders:
Parking areas to observe the parade include: Central Elementary, 9th Grade Center, and Bixby Middle School

Due to construction, the parade audience may line up along the route on Riverview from the HOTS entrance to the north, 151st Street, and Mingo to the new East HS entrance
Please refer to the parade route map for details.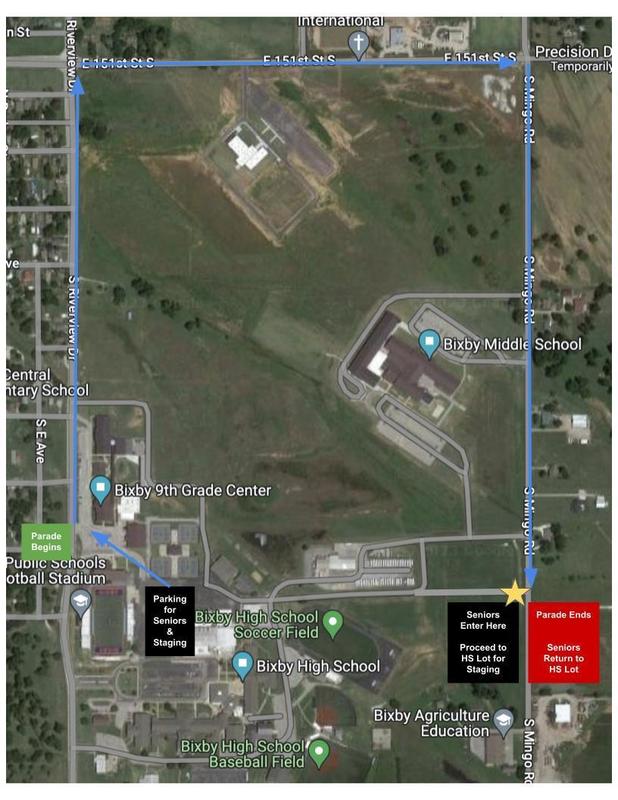 Information for Seniors:
All Seniors are allowed to have one vehicle in the parade. Family, friends or classmates are welcome to ride with one another and are encouraged to decorate vehicles.

Seniors should enter from the East HS Entrance on Mingo and proceed to the main parking lot between 3:15 and 3:45 PM.

Cars will stage in the main parking lot before proceeding to the parade route.

Seniors should wear their graduation gowns to identify them as 2023 Spartan Seniors. Senior Caps are not required.

A parade official will lead the parade group out of the entrance North of HOTS at 4:00 PM.

Cars should follow the convoy of vehicles through the entire parade route and obey all traffic laws. The parade will end at the East HS Entrance off of Mingo after circling the entire route and students may then head home from the main HS lot.

We encourage any students who have committed to serving in the military to recognize themselves with signs or decorations so that patrons can salute them during the parade.

If you have any questions or concerns email me at mreplogle@bixbyps.org.
I am excited about this event and look forward to celebrating with our seniors on May 14th!
Thank you,
Mickey Replogle, BHS Principal