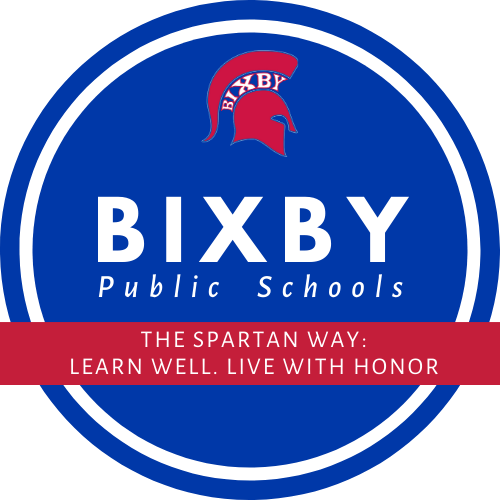 The procedures and protocols contained in this plan are designed to support continued in-person learning at Bixby Schools while reducing the potential impact of the COVID-19 virus on the health and welfare of BPS students and employees. The guidelines are based on recommendations from the Centers for Disease Control and Prevention (CDC), the Oklahoma State Department of Education (OKSDE), the American Academy of Pediatrics (AAP), and state and local health agencies. Regular adjustments will be made to protocols and procedures based on updated information provided by these organizations as well as local factors which may arise after the resumption of school operations.
Throughout the 20-21 school year and continuing into 21-22, the BPS COVID Response Team including representatives from all of the district's stakeholder groups will evaluate recommendations from the education, medical, and public health sectors. The goal has been and will continue to be to create and maintain effective, flexible, and developmentally appropriate practices that will align with guidance provided by the American Academy of Pediatricians: "All policy considerations for the coming school year should start with a goal of having students physically present in school."
A host of reasons support the AAP's recommendation, from the importance of in-person learning to the potentially damaging impacts of social isolation, emotional trauma, and other adverse conditions on children and adolescents. In forming its recommendations, the AAP states that, "the preponderance of evidence indicates that children and adolescents are less likely to be symptomatic and less likely to have severe disease resulting from SARS-CoV-2 infection. In addition, children may be less likely to become infected and to spread infection." Therefore, the organization concludes that policies to mitigate the spread of COVID-19 within schools must be balanced with the known harms to children, adolescents, families, and the community by keeping children at home. In the organization's update on July 10, the AAP continues to stress the importance of in-person school for children, but also stated that health agencies and school districts should act based on evidence at the community level, not politics.
Close coordination and communication will be essential in maintaining normal school operations and preserving the health and safety of all BPS stakeholders. We value our families and staff and will continue to operate with as much transparency and candor as possible.
The information presented in the BPS COVID Protocols document is shared so that our BPS community can begin school with an understanding of our shared responsibility in keeping our students and staff safe and mitigating the transmission of COVID-19 in our schools and community.