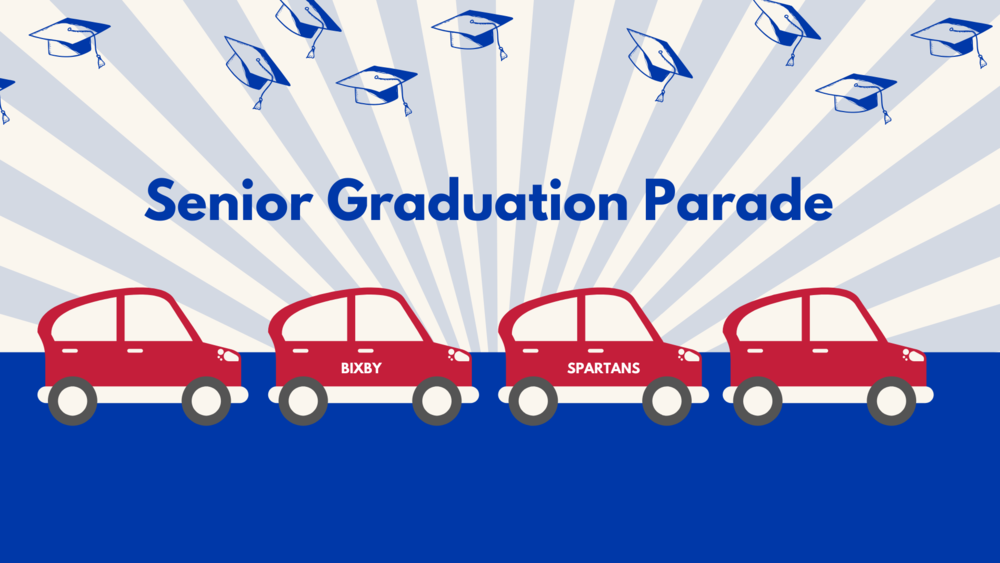 BHS Graduation Parade
Bixby Public Schools
Wednesday, April 29, 2020
May 7th Update
Today is the day, Spartans! Our originally scheduled graduation date and the evening of our first-ever Senior Parade! We remain hopeful that our formal ceremony will take place on June 29th and we look forward to gathering with you (from a distance) to celebrate our seniors this evening!
Things to remember if you plan to attend:
- Arrive early! We need all spectators parked and in their spots where they plan to observe the parade by 6:15 PM!
- There is NO parking at the BHS campus with the exception of the area south of campus by the pool/band facilities and the lot directly in front of the 9th Grade Center. - Refer to the flyer/map below for specifics on route and parking areas
- Patrons should maintain social distancing at all times.
- For those parking on a BPS campus at BMS or BCI, it's important to note that our facilities, including playgrounds and restrooms, are closed!
- We recommend following 'safer-at-home' guidelines for individuals over 65 or part of a vulnerable population. If attending, vulnerable patrons should remain in their cars.
- Anyone who is sick or feeling ill should remain at home and view the event virtually via Facebook Live on the BHS Facebook page.
We are keeping an eye on the weather and will provide updates via all of our channels should our plans change.

---
Spartan family, please join us as we host a first-time event, the Class of 2020 Graduation Parade! See below for details! We hope to see you on May 7th!
We invite our community to celebrate our seniors with this special tribute on the originally- scheduled BHS graduation night. We remain optimistic that we will be able to conduct a traditional commencement ceremony for our wonderful senior class at the Mabee Center on Monday, June 29.

Mr. Adams will be communicating logistics specifics to all senior families.