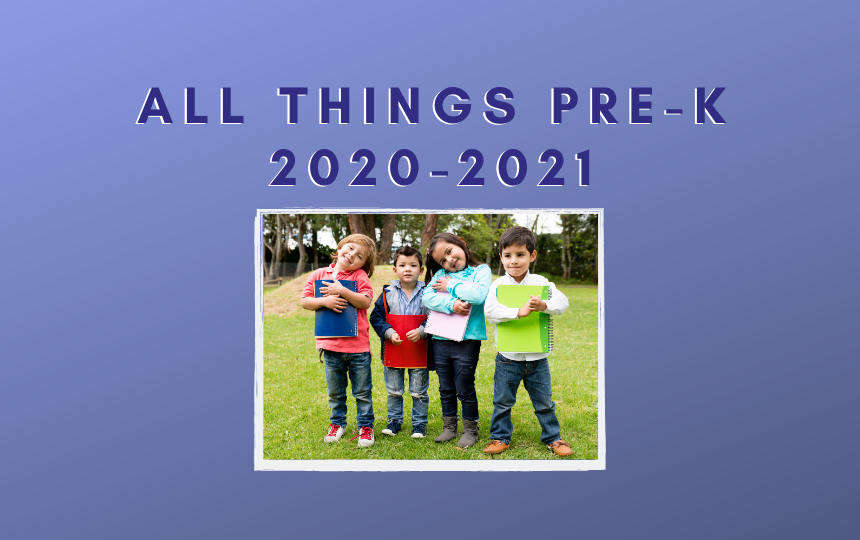 All Things Pre-K 2020-2021
Bixby Public Schools
Friday, March 06, 2020
6/9/2020 Update:
Dates of Note:
Pre-K Screenings: August 13th-18th

Meet the Teacher: August 19th

First Day of School: August 20th
*Pre-K students will begin school later than all other BPS students in order to conduct screeners.
All full-day Pre-K spots are currently filled and waitlists have been established. Half-day Pre-K will no longer be offered due to numbers. Families can visit bixbyps.info/enrollment to complete the enrollment process. We will continue to fill any available Pre-K spots based on a timestamped, first-come, first-served basis.
BPS plans to communicate with all Pre-K families as soon as possible but no later than June 10th the following notifications:
You've been accepted or not into full-day Pre-K at your home site or an alternate site.
Further notification will come directly from school sites at a later date:
Details on screening appointments

Teacher placement
Pre-K Schedule:
Monday - Friday

8:00 AM - 2:05 PM
Before & After Care via YMCA Go Club:
Before Care will be open from 7:00 – 8:00 AM and After Care will be open until 6:00 PM.

See here for more information.
---
5/8/20 Update:
It's almost time for Pre-K and new Kindergarten enrollment! Please see below for details!
Pro tip: gather the required documents and make sure they are saved electronically to the device you'll use to enroll! This ensures uploading will be easy and streamlined!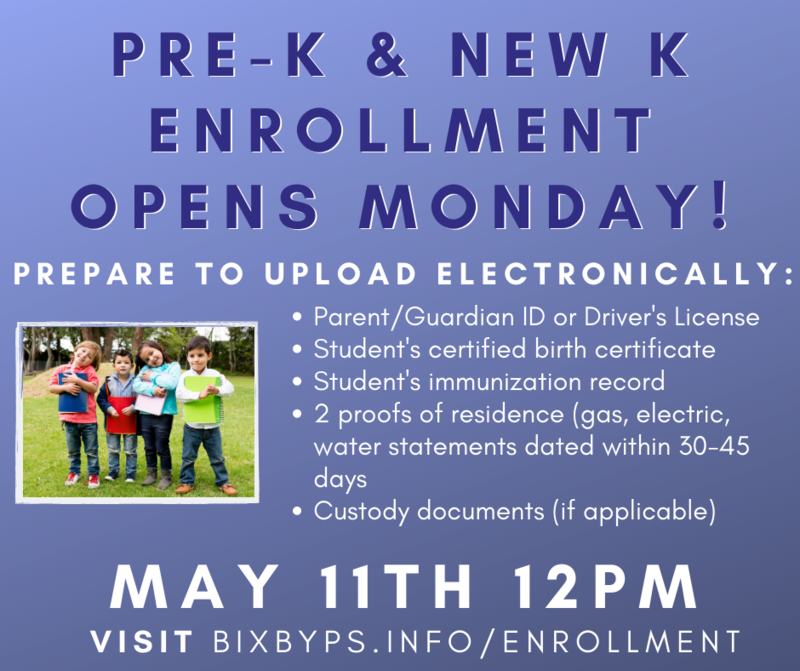 ---
4/2/20 Update:
We have rescheduled our PK and new Kindergarten enrollment date. We will open for enrollment on May 11th at 12:00 PM.
Please complete our survey regarding internet/device access.
Our enrollment office WILL REMAIN CLOSED.
Based on survey data, BPS will follow up with families who need assistance enrolling their child.
Parents with online/device access at home will click here and enroll online via our website. The PK enrollment link on the left will be live on May 11th at 12:00 PM.
Reprogramamos nuestra PK y la nueva fecha de inscripción para el Kindergarten. Abriremos para la inscripción el 11 de mayo a las 12:00 p.m.
Complete nuestra encuesta sobre acceso a internet / dispositivo.
Nuestra oficina de inscripción permanecerá cerrada.
Según los datos de la encuesta, BPS hará un seguimiento con las familias que necesitan ayuda para inscribir a su hijo.
Los padres con acceso en línea / dispositivo en casa harán clic aquí y se inscribirán en línea a través de nuestro sitio web. El enlace de inscripción de PK a la izquierda estará activo el 11 de mayo a las 12:00 p.m.
---
3/23/20 Update:
New student enrollment for Pre-K & Kindergarten has been postponed. Once we get this rescheduled we will communicate via all channels. Pre-K spots are limited and will be filled on a first-come, first-served basis based on the timestamp. New student enrollment for grades 1-12 will begin May 22nd.

Se aplaza la inscripción de nuevos estudiantes para Pre-K & Kindergarten. Cuando esto se reprograme, nos comunicaremos a través de todos los canales.

---
Dear Families,
Thanks to all of you who were able to attend our PK Information night, I know there were a few points of confusion, and I'd like to clarify. I was able to confirm today the Daily Family YMCA will be able to provide Before and After Care at each elementary site next year! Before Care will be open from 7 – 8 am (with classes starting at 8) and After Care will be open until 6 pm.
There are some details that are not yet finalized, but are coming soon. Here are the things we wanted parents to know early:
-- PK for 2020-21 enrollment opens March 30th at noon
-- Families will need two proofs of residency (gas, water, or electric bills), current shot records, and parent photo ID to upload to complete the enrollment process (from home or our from our enrollment center computers)
-- PK will use screening tools and/or parent interviews to get to know children and build balanced classes to best meet students' needs.
-- PK students will start classes 1week later than other students so appointments can be set with families during that week for screenings
-- Because PK enrollment has some limits due to legal restrictions on class sizes spots, could be limited
-- There is no specific set of criteria a child must meet (except being 4 years of age by Sept 1st) to enroll in PK
-- PK will be filled by first come/first served who have completed enrollment (we use time stamps on enrollment packet completion)
-- PK will be offered in half day AM, half day PM, and full day next year. Families should indicate a preference and we will do our best to honor it, but cannot guarantee it.
-- All PK students will receive the same level and amount of high quality programming, regardless of half or full day participation.
Please feel free to reach out if you have questions to any elementary site, our enrollment center (enrollment@bixbyps.org), or to me.
Printable Resources:
Thanks,
Lydia Wilson
lwilson@bixbyps.org