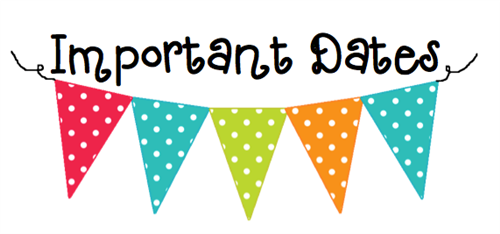 Important Dates!!
Central Intermediate
Thursday, May 09, 2019
Hello CI Parents, we have a couple of important reminders for this evening. First, remember Mornings with Moms is tomorrow morning in the cafeteria from 8 am to 8:40 am. Moms, grandmas and others are welcome to attend for a small breakfast with your student.
Also, remember the Talent Show tomorrow at 10 am at Spartan Stadium. Parking may be an issue, so you may want to come early. You will have to park in areas of the high school parking lot where there are openings as CE is having an event in the parking lot across from the stadium. You are welcome to park at CI and walk across the bridge to the stadium with your student if you'd like. It will last one hour. For those playing the piano at Spartan WrapUp, parents are welcome to join us in the gym at 2:15. However, because of lack of space, this is only for parents of those who are playing.
The Color Run is next Wednesday, May 15th from 1:00 - 3:30. Parents are welcome to attend with their student. Sixth grade will run at 1:10, fifth grade will run at 1:30, and fourth grade will run at 1:50. There will be concessions and snowcones available. And as a special treat this year, the Bixby Fire Department will be at the school and will spray our runners while they are on the route!! Make sure kids bring a towel and even a change of clothing just in case. No swimsuits, and let's hope for warm weather so we can have a fun afternoon!
Our district will be celebrating the hard-working staff in our Transportation Department next week with a luncheon for them on May 14th. Many of you send your kids to school on a bus, and if you would like to support our celebration, please consider making a donation! It will go towards a luncheon and a little gift, including a really creative and cute t-shirt from Fieldhouse Gear. If you are interested, you may donate any little amount via your PayPal account by using this: jasonflegler@me.com.
Finally, if you haven't already, you MUST re-enroll your students for the fall ASAP. Failure to do so will mean we drop them at the end of the semester, and they will no longer be students at Bixby Public Schools. You will be required to start the enrollment process from the beginning in the fall, which means going to the Enrollment Center with proofs of address, shot records, birth certificate, etc. IF your child is not returning to BPS, please notify our office immediately. If you need help with the enrollment process, please also contact our office at 918-366-2249.
Thank you for your support for these events. If you have any questions please contact our office. And remember, it's ALWAYS a GREAT day to be a SPARTAN!!