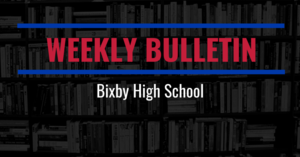 Weekly Bulletin 4/22/2019 - 4/26/2019
Heidi Dees
Monday, April 22, 2019
Weekly Bulletin
Week of April 22-26, 2019
•April 22-25 - Basketball tryouts - see schedule below
•Tuesday, April 23 - Advanced Placement Preadmin Session Meeting - see schedule below
•Wednesday. April 24 - Advanced Placement Preadmin Session Meeting - see schedule below
•Wednesday, April 24 - Premed Club meeting - see below
•Friday, April 26 - Mr. Bixby Pageant - see below
Great Expectations for: April
District Character of the Month: Cooperation
District Quote of the Month: "Coming together is a beginning, keeping together is progress and working together is success." - Henry Ford
Expectation Focus: We will practice virtuous living using the Life Principals
Basketball Tryouts
8th tryouts(current 7th graders only) will be April 22-23 from 3-4:30 at Big Whitey
9th tryouts will be April 24-25 from 3-3:45 at Big Whitey
High school tryouts will be April 24-25 from 4-6:30 at Big Whitey
All Athletes Physicals Night
When: May 2nd
Where: Old Whitey Gym Lobby
Who: All Bixby athletes grades 7th - 12th
What to bring: Completed parent consent form, blank physical form with name & date only
Price: $25 fee also gets the All Sports Pass for next school year
Please list and double check ALL signatures/allergies/medications
Go to www.bixbyspartanathletics.com/physicals
Dude, Make a Wish Events
strong>April 26 - Sign up to participate in Mr. Bixby pageant. Mr. Bixby is Friday, April 26th at 6:30 p.m.
All forms are available in W-26 Mr. Patterson's classroom
Advanced Placement Preadmin Session Meeting
Students that will be taking an AP Test must attend a Preadmin Session. The schedule is:
Media Center
Tuesday, April 23rd - 2nd Hour - Last Names A-G
Tuesday, April 23rd - 6th Hour - Last Names H-P
Media Center
Wednesday, April 24th - 3rd Hour - Last Names Q-Z
Wednesday, April 24th - 5th Hour - Students that missed the previous sessions
PreMed Meeting
There will be a Premed club meeting on Wednesday, April 24th at 3:45 in Mr. Nguyen's, room SA 107.
Mr. Bixby Contest
Student Activities is sponsoring the Mr. Bixby contest. All the profits will benefit DUDE, Make A Wish. The event will be on Friday, April 26 at 6:30 p.m. in the auditorium.
Art Club
Art Club will meet every 2nd & 4th Tuesday of the month in the Art Room, E-22.
Student ID's
Students - please pick up your new student ID's in the front Attendance Office.
Tutoring
Math tutoring available during 1st lunch and available during all lunches w/prior arrangements in W-24 Monday - Friday - see Mrs. Roberson with questions
Math tutoring is available on Tuesday/Thursday 1st and 7th period in room S-214.
Science tutoring w/Mr. Hunter 3:45 - 4:30pm Monday thru Thursday room S-109
Indian Education
Title VI students and parents are encouraged to utilize the phone app Remind 101. Download the Remind 101 app for upcoming events: Text 81010 and Enter this Message: @titleviin
Indian Education Tutoring/Title VI Program
-Tutoring is available for students with a 506 Form on file (Forms may be downloaded from the Student Services section of www.bixbyps.org),
-Location: Brassfield Learning Center, 501 S. Riverview, behind the 9th Grade Center
-Time 2:45-4:30pm - Tuesday and Thursday
-Science tutoring w/Mr. Hunter 3:45 - 4:30pm Monday thru Thursday room S-109
-For more information contact Tina Francis at (918)366-2237 email tfrancis@bixbyps.org or Adria Wood (18)366-2222 email awood@bixbyps.org