EDIT MAIN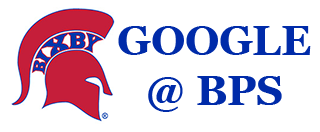 gSuite ~ Google Classroom ~ Clever
Google Tutorials include information on our district email, using Google drive, and also how to use shared lesson plans and calendars.
gSuite Accounts:
All K-12th grade students have google accounts with the district. Student "email" is set to only communicate between teachers (@bixbyps.org) & students (@bixbyk12.org). They will have access to Drive, hangouts, and also classsroom. Their logins will require the Student First & Last Name and also their student number.
They are setup as follows:
(LastName)(FirstInitial)(Last 2 digits of student number)@bixbyk12.org
Example: Amy Reneau 12345 would be reneaua45@bixbyk12.org
*Please note, the student domain is "@bixbyk12.org"
The password is bps(student number) example: bps12345
*If a student number is less than 5 digits you may need to add a 0 at the beginning of the number to equal 5 numbers. This appears to only happen in 11th and 12th grade, but just a heads up if they have trouble logging in.
---
Google Classroom Screencasts
---
Google Cast for Education...
This allows the teacher computer to be setup as a chromecast receiver. You give your students access to cast to your " Google cast for Edu receiver" and that will allow you to project the students screen. They can only connect one at time and only to you if you give them access.
Google Cast Instructions
Google Meetings... This allows teachers and students to all join an online session. The teacher can present and their screen shows up on the screens of all students logged in. Students can also present to the entire group one at time. Google Meetings Instructions