Oklahoma SDE Releases School Report Cards
Rob Miller
Sunday, March 03, 2019
March 3, 2019
Spartan Families,
Last Thursday, the State School Board approved the newest version of the Oklahoma School Report Cards. Due to changing state standards and updated testing benchmarks, this is the first time in over two years that schools in our state have received a comprehensive report card.
You can access the report cards for Bixby Schools and all Oklahoma public schools via the state website: oklaschools.com. The state dashboard provides extensive information relative to how individual schools performed across multiple indicators of school success and presents comparative data with other schools across the state.
One of the nice features on the new dashboard is accessibility for parents to the Oklahoma State Testing Program's Parent/Student Portal. If you have a child who participated in state testing last year, you can access his/her individual reports by clicking on the "Your Student" tab on top, then setting up an account.
This year, most Oklahoma schools received ratings in the areas of Academic Achievement, English Language Proficiency Progress, and Chronic Absenteeism. Elementary and middle schools with more than one tested grade were also were rated for Academic Growth. This indicator tracks how individual students perform from one year to the next and awards points to schools based on student growth in tested subjects. High schools received additional ratings in Graduation Rate and Post-Secondary Opportunities. Detailed descriptions for all indicators can be found on the State Department of Education website HERE.
The report cards for North Elementary and Bixby High School are provided below as examples.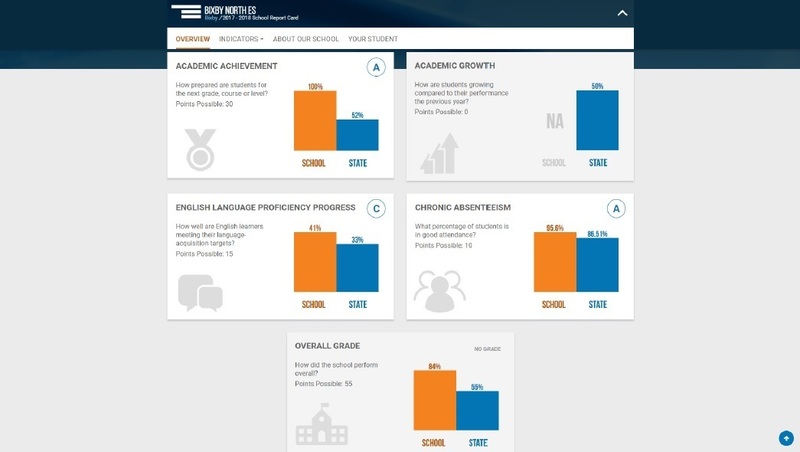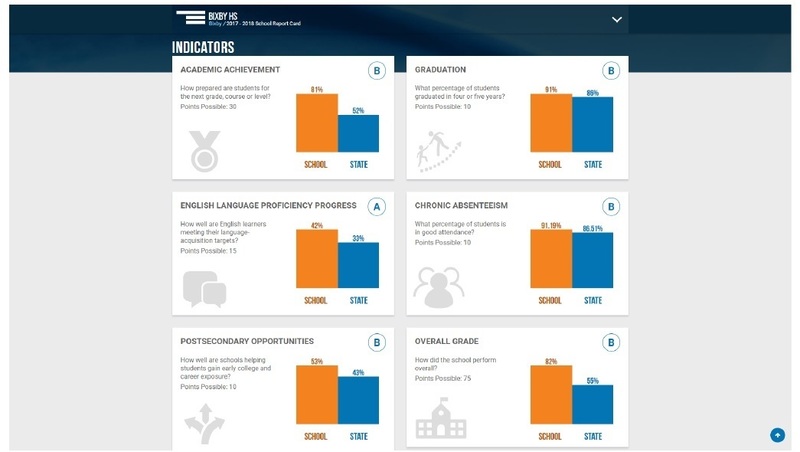 Central Elementary and North Elementary were the only two schools in Bixby that did not receive an overall grade. Despite scoring well on the other individual indicators, an overall score for CE and NE could not be calculated because they only have one tested grade (3rd), thus a growth score could not be included. All other Bixby schools earned an overall grade of B.
In accordance with revised guidelines from the 2016 Federal Every Student Succeeds Act (ESSA), the state is required to identify the bottom five percent of schools in Oklahoma for targeted assistance. These schools earned an overall "F" grade. As a result, the state also assigned "A's" only to schools in the top five percent based on overall ratings.
The state also forced a standard distribution (bell curve) across the remaining statewide results. Therefore, approximately 12-15% of schools statewide also earned a "B" or a "D" respectively, while the vast majority of schools, about 60-65%, earned an overall grade of "C". In short, an overall grade of B represents a score in the top 15-20% of schools in Oklahoma. The fact that Bixby schools earned B's across the board is commendable!
When Oklahoma and other states were first tasked with issuing report cards as a result of the No Child Left Behind (NCLB) legislation in 2002, the intent was to increase transparency and public accountability related to school performance. While a commendable goal, in my opinion this goal has never been fully realized because the definition of school success has been narrowly defined as student performance on standardized tests. Regrettably, the new Oklahoma school reports continue to emphasize student performance on state testing as the primary metric.
I believe parents and families in Bixby believe there is more to a high-quality school than just strong test scores. Many people across America agree. The 2015 PDK/Gallup Poll revealed that 67 percent of public school parents believe that there is too much emphasis on standardized testing. In the same survey, only 14 percent of parents rated standardized test scores as a "very important" measure of school effectiveness, far behind other items like how engaged students are with their classwork (80 percent).
As one researcher once said, "Not everything that can be counted counts and not everything that counts can be counted." Measuring school quality is complex and contextual. Any model which seeks to compare vastly different school situations will struggle to adequately address the often significant differences between large and small districts, urban and rural, high poverty and affluent, high-mobility and stable, and well-resourced and under-resourced. As a result, these report cards are imperfect instruments for understanding school quality.
I believe most parents in Bixby and other communities already have a strong sense of the quality of their local schools based on informal indicators that truly matter to them and their children. These include factors like high academic engagement, positive relationships with teachers and school employees, access to arts and music, safe learning environments, well-maintained buildings, character development, exposure to technology and modern learning strategies, athletics and extracurricular offerings, positive and caring school culture, and community support - all of which exist in high levels in Bixby schools and none of which can be adequately captured by these new school report cards.
As a whole, Bixby schools performed comparatively very well on these new report cards. Our district has great schools, supportive parents, dedicated teachers and staff, and amazing children who are working hard every day.
However, we also recognize there are areas for improvement in all of our schools. These report cards provide some valuable insight but do not necessarily point to the real opportunities for growth in our school district.That focus will continue to develop as a result of honest conversations at all levels about how to make BPS an even better place to teach and learn.
We value your involvement in these conversations and in helping us develop a shared vision that seeks to empower our students with the skills, knowledge, and personal character for future success.
If you have any questions about the new report cards, please feel free to contact me by email at rmiller@bixbyps.org or by phone at 918.366-2200.
Rob Miller, Superintendent