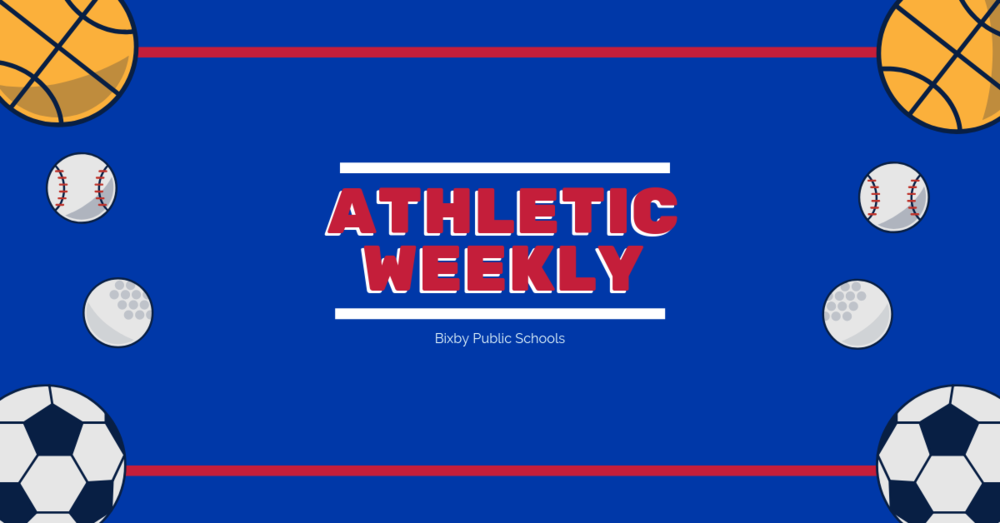 Athletic Weekly
BPSTech
Friday, February 15, 2019
WRESTLING
By: Brock Moore, Head Wrestling Coach
We had a great turn out for our senior night last Tuesday as the Spartans took on Sand Springs. The seniors and the rest of the team were able to wrestle on one of our new competition mats. The Spartans lost 57-21 to end the regular season at 3-7, which was an increase from last year's record. Up next for the Spartan wrestlers will be Regionals this Friday and Saturday February 15-16 at Jenks. Please come cheer these guys on as they try to qualify for the State Tournament.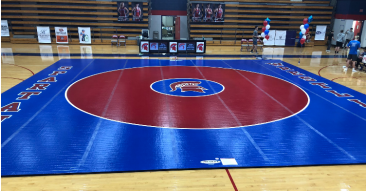 BOY'S BASKETBALL
By: Nate Smith, Head Boys Basketball Coach The
Bixby Spartans traveled to Jenkson Tuesday and lost 68-54. The Spartans were led by Xavier Glenn with 19 points followed by Braden Weaver with 15 points. On Friday the Spartans played Bartlesville at home and lost 57-49. The Spartans were led in scoring by Xavier Glenn with 22 points. The Spartans play two home games this week. On Tuesday, we play Sand Springs and Friday is Senior night against Owasso.
GIRL'S BASKETBALL
Bixby's Girls Fall In Conference Contests: By Ron Holt
A consistent, competitive effort was atop priority for Bixby High's girls basketball team as the Lady Spartans face a demanding late regular season schedule. The margin for error was minimal as the Lady Spartans learned in a nail-biting 71-68 loss at Jenks last Tuesday and a disappointing 46-36 loss to eighth-ranked Bartlesville in Bixby's Whitey Ford Field House last Friday. Both were Frontier Valley Conference games.
The challenges continue this week as Bixby, 12-9 and ranked No. 18 last week, entertains sixth-ranked Sand Springs(16-4) on Tuesday, Feb. 12, and ends the regular season at home Friday, Feb. 15, in a Senior Night game against Owasso. Both games start at 6:30 p.m.
Bixby and Jenks kept the Jenks: Frank Herald Field House crowd entertained throughout as the lead changed hands numerous times. BHS went on a 9-2 run late in the first quarter ? thanks to four points by Savanna Stout, three by Sydnee Schovanec and two by Sydney Page, to snare the Lady Spartans to a 33-29 lead with 35 seconds left before intermission but the Lady Trojans used two charities and a layup with two seconds left by Makenna Burch to tie the game at 33-all at the break. Jenks tried to pull away in the third quarter, but each time JHS went on a run it was matched by the Lady Spartans. A field goal by Bixby's Kate Bradley and afield goal and free throw by Janiyah Hendricks tied the game at 47-47 with 33 seconds left before Burch sank a late three-pointer to give JHS a 50-47 lead. The Lady Trojans appeared to seize control of the game with a 63-53 lead with four minutes left but Page contributed a conventional three-point play, two free throws and a jumper while assisting on a layup by Bradley to narrow the gap to 65-62 with 1:55 showing. A free throw by Jenks, Haley Meely gave the hosts a 71-68 lead with 8.4 seconds left before a final three-point attempt to tie by Page, who scored all nine of her points in the fourth quarter, went in and bounced out at the buzzer Page thought the shot was on target. ,She had a great shot, it was A good look. And, she did a great job of getting herself open. Some nights it just doesn't fall your way, Bixby head coach Tina Thomas said of Page's final effort. Our game plan from the very beginning was to stop three sand penetration we just didn't do it at times. We can't give up 71 points and expect to win. We had some kids battling illness and three kids on our JV team have the flu, she said. The girls competed hard and battled back. We missed alot of close-in shots around the bucket that hurt. But, I think we got better in that game and that's something we can use going forward. Schovanec led Bixby in scoring with 20 points, followed by Bradley with 12, Myles with 11, Page with nine, Stout with seven, Avery King with six and Hendricks with three.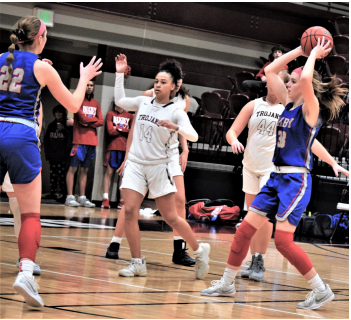 Turn overs and inconsistent offensive play seven points scored in the first half - stymied the Lady Spartans in the loss to Bartlesville. Bixby fought an uphill battle through out. Four quick points by Schovanec gave Bixby an early 4-0 lead before the Lady Bruins scored the next nine points for a 9-4 first quarter lead, which expanded to 15-7 at halftime. Two treys by Bartlesville's Jena Williams gave the visitors a 21-14 lead midway through the third quarter before Bradley scored off a drive and Myles drained a three-pointer to narrow the deficit to 21-19 with 4:04 showing. The Lady Spartans were careless with the ball down the stretch of the third frame, turning the ball over four times. The Lady Bruins capitalized to take a30-21 lead into the fourth quarter. Bixby battled back but was turned away as Bartlesville controlled the tempo and converted from the charity stripe. Bixby, which played without an injured Hendricks, was led by Bradley, Schovanec and Myles, all finishing with nine points. Stout added five and King four.