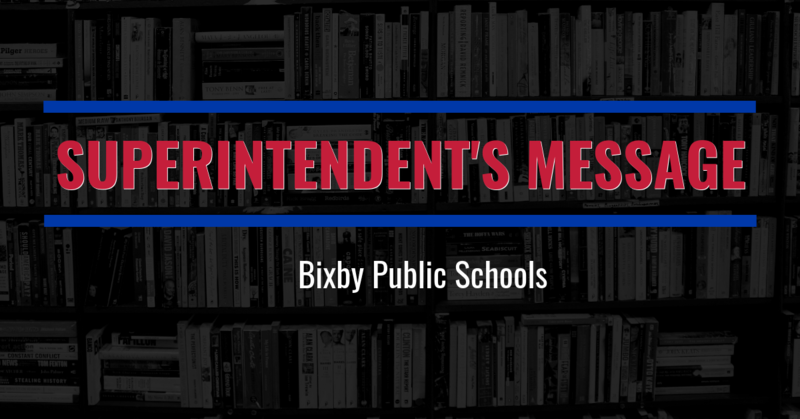 Bixby School Schedules
Rob Miller
Friday, February 15, 2019
February 15, 2019
Dear Spartan Families,
Last month, you were given the opportunity to participate in a survey and provide feedback on a proposed transition to new school hours for Bixby Public Schools. Thank you to all who took the time to respond and share your thoughts relative to this important conversation. As you might expect, there are strong opinions on both sides of this issue. I deeply appreciate the honest feedback and the openness people expressed for doing the right thing for our students. Your suggestions were invaluable in helping us adjust the original plan and develop our final proposal.
This letter is to inform you that last night our Board of Education approved the proposal to transition to new school hours beginning next August. In keeping with educational research, we are optimistic this change will have a positive impact on student academics and health by better matching the secondary students' biological sleep cycles and elementary students' peak times for academic and social engagement. Moreover, this change will enable us to make our transportation services more efficient; allow us to place all elementary and intermediate schools on the same schedule; restore the majority of high school teachers to the same schedule; and resolve long-standing issues related to shuttling of students between the high school and other secondary campuses.
Beginning with the 2019-2020 school year, the school hours for Bixby Public Schools will be as follows:
All Elementary and Intermediate Schools, 8:00 am – 3:05 pm (early release Fridays – 2:05 pm)
Middle School, Ninth Grade, and High School, 8:45 am – 3:46 pm (early release Fridays – 2:50 pm)
We recognize this transition will pose challenges to some families in our community, particularly related to after school supervision of younger children. We understand these concerns and will be working over the next few months to implement or expand programs to assist families with this transition. Additionally, our high school staff is prepared to work with individual students to provide flexibility around the scheduling of academic and other student commitments, such at Tulsa Tech programming, family obligations, employment, internships, and extracurricular activities.
The new school hours will be a change from what many have become comfortable with over the years, but it is an update that places our students' health and academics first. The change also improves our operational efficiency and resolves several scheduling issues associated with equity and consistency of services between school sites. Thank you again for your involvement in the process and for your continued support of Bixby Public Schools!
Sincerely,
Rob Miller
Superintendent