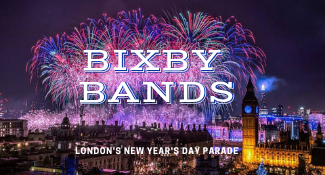 The Pride of Bixby will step out on the international stage January 1st 2019 in London, England @6am CST.
Amy Reneau
Tuesday, December 25, 2018
On January 1, 2019 the Pride of Bixby, by invitation only, will march in the 2019 London New Year's Day Parade. More than 500 TV stations will broadcast the parade with live coverage to an audience of over 600 million and 650,000 spectators lining the streets of London. Join us and view the parade live at www.LYNDP.com or check your local listings or cable providers. CBS affiliates, NBC, BBC, Fox have broadcast coverage in past years.
BixbyBands will be updating @BixbyBands on Facebook and will update the Gallery on their website daily with The Pride of Bixby's exciting adventure. Help us celebrate the New Year and an incredible group of young musicians and talented directors as they represent our beloved City of Bixby, Oklahoma and journey to London, England.
Source: BixbyBands.com