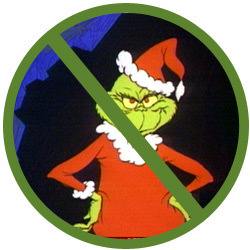 The Grinch tried in vain to take over CI today...
Brenda Shaw
Monday, December 10, 2018
In an effort to ruin the holiday spirit of our teachers and students today, the Grinch tried really hard to take over! However, the remarkable kids and teachers at CI would not allow it to happen!! Through lessons on sequencing that allowed our fifth grade sketch artists to draw pictures of the culprits, to the adjectives that described him so no one would be fooled, our students kept him at bay! Some of our students even had to use their excellent problem solving skills to get out of an Escape Room that the Grinch was inhabiting - but they did it in record time!! The final straw was the many random acts of kindness that took place today as a result of challenges given to staff and students by Mrs. Shaw!!
CI staff and students sent notes of appreciation to those in our building who might not be recognized every day. They also showered our newest teacher's classroom with welcome notes and posters of encouragement! Kindness definitely won out today and the Grinch did not stand a chance. Donned in Grinch and Whoville attire, many of our teachers and staff members led the way to victory over the cranky Grinch. In the end. the spirit of the season is still alive and well in our building and in our hearts!