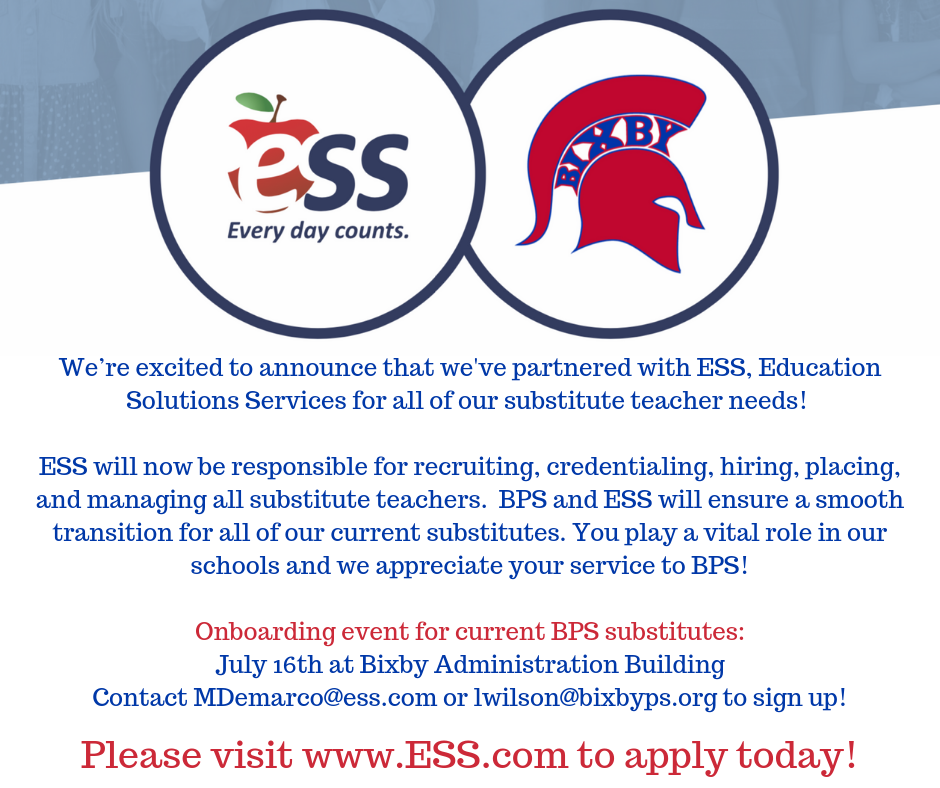 BPS Now Partnering with ESS for Substitute Service
Jessica Jernegan
Wednesday, July 10, 2019
In order to provide the best possible experience for all vested parties, BPS is making a transition to ESS, Education Solutions Services, for all of our substitute teacher needs.
We are encouraging parents and other members of the community to consider joining us in one of the many substitute openings we have available – this is an excellent way to positively impact your community.
ESS offers the perfect mix of flexibility, training, and support. With the ability to hand-pick your assignments from a user-friendly online system, you get to decide when, where, and how often to work. Whether you're just getting started in teaching, a seasoned or retired teacher, the company will give you the training and support you need to enter the classroom confidently and prepared.
If you are interested in applying to sub for BPS, please visit www.ess.com and apply today!
If you are currently subbing for BPS and employed through Kelly Services, you may attend an onboarding session on July 16th at BPS Administration Building (109 N. Armstrong). Please contact MDemarco@ess.com or lwilson@bixbyps.org to enroll in one of the sessions. We value your service tremendously and certainly hope you'll stick with Bixby through this transition period. We hope you will continue to play a vital role in the education of Bixby students. We are confident this new partnership will be a positive experience for all!
We will soon have a coordinator with ESS responsible for working directly with all BPS subs. For the time being, questions and/or concerns can be relayed via email to Lydia Wilson at lwilson@bixbyps.org.
To contact ESS directly, call 800.641.0140 or visit https://ess.com/contact/
See flyer here!