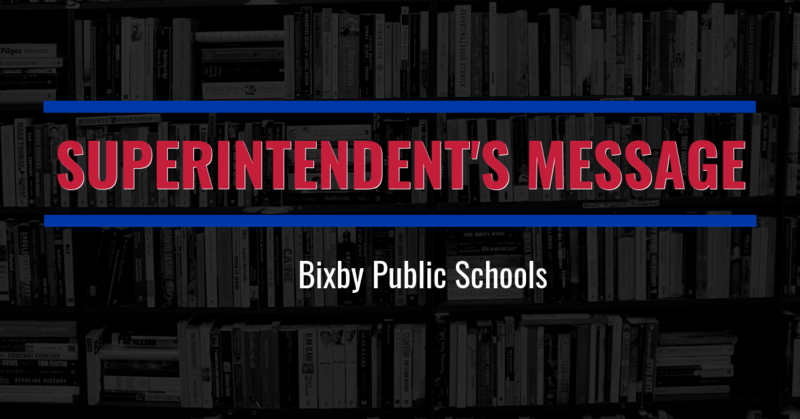 Response to Social Media Posts
Rob Miller
Monday, April 29, 2019
In recent days there have been several posts on social media related to reported incidents of bullying or fighting in Bixby Public Schools. As a long-time teacher, administrator, father, and grandfather, I can assure you that I am disheartened anytime a child is a target of physical violence or hurtful speech at school. Violence, or threats of violence, are simply not acceptable in our school system.
For this reason, I understand the anger and frustration expressed by parents and community members any time violence occurs in our schools. Children are our most precious resource. When families send their children to school, they have every right to expect them to be safe, comfortable, and protected. As educators, it is our prime responsibility to provide a safe and positive learning environment for every child, every day.
This is an obligation we take seriously. There is not a teacher or school administrator in Bixby who is not committed to doing everything possible to keep students safe. At every grade level, our staff work with students to teach and discuss appropriate behaviors, conflict resolution, positive relationships, self-control, and coping skills. As a Great Expectations (GE) Model School District, we set high expectations for our students and constantly encourage them to value each other as unique and special individuals and to refrain from sarcasm and put downs at all times. We teach, model, and celebrate adherence to the GE life principles, including personal qualities such as friendship, cooperation, compassion, empathy, respect, self-discipline, and temperance. This is not something we do as an afterthought - it is an integral part of our school culture.
At the same time, we realize students do not always live up to our standards and expectations. When a student's behavior creates a hostile or unsafe learning environment for his or her peers, our school team works proactively with parents to implement interventions to address the child's behavior. Specific interventions can vary based on the age, maturity, and specific individual factors associated with the child.
However, let me be very clear about this point. Bixby Schools does not tolerate fighting, physical intimidation, harassment, or verbal bullying on our campuses or school transportation. When we are given credible and timely information about incidents which have happened at school, or even outside of school, our administrators conduct thorough investigations and take appropriate disciplinary actions as necessary for students involved.
Again, the circumstances of each incident must be evaluated on a case-by-case basis. When it comes to secondary-age students, the consequences for bullying and physical violence become more severe. While confidentiality laws limit the information schools can share relative to any student's discipline, students who engage in physical violence will typically be removed from the general education setting for a period of time. This includes out-of-school suspension in the large majority of cases.
Again, in the emotional aftermath of an incident when someone's child has been harmed, I acknowledge the words and phrases above may ring hollow with parents. It can be frustrating when we're not able to share specific information with parents about actions that are taken. I regret this. Most of the time we get it right. However, none of us are perfect and mistakes are occasionally made.
Therefore, if a parent feels like we have fallen short in any respect related to student safety, either with their child or someone else's, they should immediately express their concerns to a trusted teacher or to their school administrator. If these avenues do not resolve the concern, the parent(s) should not hesitate to contact a member of my staff, or me, directly.
Finally, I want to reinforce my conviction that Bixby Public Schools is a safe and positive place for students and staff. We have a strong community with many great families and the vast majority of our students are well-mannered, compliant, caring, and respectful. As a district, we are committed to the security and well-being of every child and will continue to work with our families to improve our schools.
Thank you for your support.
Rob Miller, Superintendent