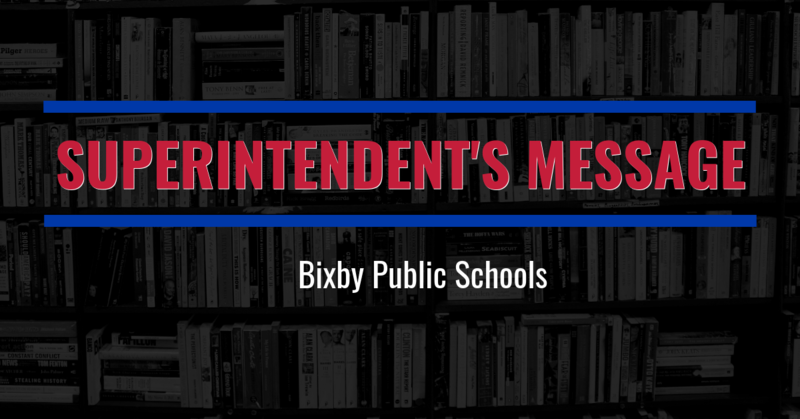 BPS Central and West Elem/Inter Redistricting 2020-2021
Rob Miller
Monday, April 15, 2019
April 15, 2019
The Bixby School Board last Thursday approved a new attendance boundary for elementary students south of the Arkansas River. The new attendance zones for Central Elementary and Central Intermediate will go into effect upon the opening of West Elementary and Intermediate Schools in August 2020.
New maps are currently under development to reflect the change to the enrollment boundary. No changes are currently under consideration for students attending the North and Northeast campuses.
The new southern enrollment boundary will run north to south, following Kimberly-Clark Place to 151st Street. The boundary then slides east to S. Yale Avenue (S. 49th E Ave), then straight south to the district boundary at East 181st Street South.
Students who live east of the new boundary will attend Central Elementary and Central Intermediate Schools. Children west of the boundary will attend West Elementary and West Intermediate Schools.
Construction of the West Campus, approved in the 2016 bond issue, was necessary to address ongoing population growth and increasing enrollment numbers in the southern portion of the school district.
In October 2018, BPS contracted with a demographer to analyze current enrollment data and provide predicted growth trends across the district. According to projections, Bixby Schools can anticipate a consistent 3-5% annual growth rate over the next decade, bringing total school enrollment from about 6,650 students today to over 9,000 students in 2028.
In August 2020, the enrollment of elementary-age students (PK-6) south of the river is projected to be close to 1,900. This requires we keep the Central campuses open to be able to balance enrollment and provide room for growth at both the West and Central school sites.
A committee of 25 parents, teachers, and administrators from Central Elementary and Central Intermediate Schools met earlier this month to review final redistricting options. The process involved discussion and analysis of projected enrollment patterns, transportation services, and building capacities.
A primary consideration was selecting a boundary that would allow room for growth at both sites and to avoid having to change elementary boundaries again in the foreseeable future. Residential construction trends are difficult to predict, especially in a fast-growing district like Bixby. However, the current demographic and residential development data strongly support the boundary decision recommended by the committee and approved by the Board of Education.
Our desire is for every school and classroom to be a place where we would want the child we love most to be educated. We are committed to making this transition as smooth as possible for families while ensuring fairness and consistency with all decisions affecting our students. This is one of the reasons we are announcing this decision over a year in advance of the opening of the West Campus.
We will be sharing more information in the next few months about important improvements being planned for both Central Elementary and Intermediate Schools that will occur between now and August 2020. Likewise, the transition committee will continue to meet to provide recommendations on a variety of issues, to include the assignment of staff, curricular programming, organization of PTOs, distribution of site budgets, equity of student support services, and implementation of technology, furniture, and safety upgrades for all sites.
If you have additional suggestions or comments, please email Superintendent Rob Miller at rmiller@bixbyps.org or Asst Superintendent Lydia Wilson at lwilson@bixbyps.org.